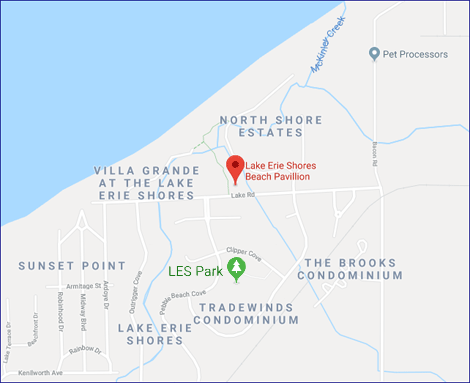 Reserve a Pavilion
Lake Erie Shores residents may reserve the beach or playground pavilion on a first come first served basis. 
There is a required cleanup / security deposit, but otherwise it is free for our residents to reserve. Contact Sandy Schultz at 440-720-0100 x 128 at First Realty, for a copy of the contract, and to make arrangements.
The reservation does not include exclusive use of the beach or playground / parking areas. They are always open to our residents and guests.
Looking for a location of the Beach Pavilion parking lot, then use this Google Map URL https://goo.gl/6JiMLH. *
The playground URL is https://goo.gl/Gcz3Lj.
* Sometime when searching for the beach pavilion in Google Maps or Map Quest you will see a result: "1 Lake Rd". Do not use that address. If it is used with a Garmin or other mapping app, it will direct people to the Township Park's baseball fields near Hardy Rd.